This article was included in the "Your Community, Your Self" Community Benefits Report for Spring 2012. View the complete index of articles and content, or download the full PDF (four pages).
Self Regional has funded grants totaling $3.86 million over the past 15 years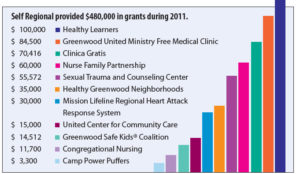 Self Regional Healthcare's community outreach includes the hospital's department of prevention and wellness, which provides health education and screening services at local schools, worksites, churches and special community events.
In addition, the hospital provides Wellness Works, a not-for-profit community fitness center that specializes in supervised training and oversight for non-athletes. Self Regional Healthcare recognizes the efforts of the hospital alone cannot create healthy communities.
For 15 years, the Self Regional Community Outreach Committee has awarded annual grants to local organizations proposing projects with specific goals to help create a healthier community.
To apply for a grant, organizations should contact Rosemary Bell, Director of Community Outreach, at rbell@selfregional.org or (864) 725-4660.