About Edgefield Medical Center OB Clinic
The Edgefield Medical Center OB Clinic is a branch of Self Regional Healthcare Family Medicine Residency Program, concentrated on pregnancy, childbirth and postpartum care. Whether you are already expecting a baby or hoping to become pregnant, our providers are here to help meet all your healthcare needs.
The Edgefield Medical Center OB Clinic offers a range of services designed to ensure the health and wellbeing of patients who are pregnant, patients with non-surgical gynecology complaints and those in need of contraception.
Patients of the clinic will be seen for their appointments at Edgefield Medical Center throughout and after their pregnancy, and will deliver at Self Regional Medical Center in Greenwood, SC, which follows a family-focused approach to obstetrical services. Families will enjoy our newly renovated, state-of-the-art birthing suites where labor, delivery and recovery time is spent in one comfortable space.
Services
Preconception counseling and education
Low risk, routine pregnancy
Contraceptive counseling and management
High risk pregnancy, including:

Gestational diabetes
Thyroid disorders
Hypertension
Pre-eclampsia
Multiple gestation
Preterm labor
Anemia
Other obstetric complications

Labor management
Vaginal delivery, C-section
Postpartum care
Ultrasound evaluation
Lab work
Providers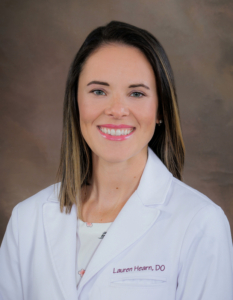 Lauren Hearn, D.O.
Lauren Hearn, D.O., practices family medicine and women's health and obstetrics within the Family Medicine Residency Program at Montgomery Center for Family Medicine.
Dr. Hearn graduated Cum Laude from Virginia Tech in Blacksburg, VA, and received her medical degree at Edward Via College of Osteopathic Medicine in Blacksburg, VA. She completed her Family Medicine Residency at Self Regional Healthcare's Family Medicine Residency Program in Greenwood, SC, and an Obstetrics and Gynecology Fellowship at Spartanburg Regional Healthcare System in Spartanburg, SC.
Dr. Hearn is certified by the American Board of Family Medicine, and is a member of the American Academy of Family Physicians.
In her spare time, she enjoys traveling, interior design, DIY projects, gardening and spending time with family.
Contact Us
For more information about Edgefield Medical Center OB Clinic, call (803) 637-3146.
Office Hours:
OB Clinic: Wednesdays – 8:30 a.m. – 12:00 p.m.
Scheduled Appointments: Monday – Friday 8:00 a.m. – 5:00 p.m.
Edgefield Medical Center OB Clinic is conveniently located at 155 Ridge Medical Plaza Road, Edgefield, S.C. 29824.