The future of surgery, available in the present!
The daVinci Xi Robotic Surgical System® by Intuitive Surgical® is now available for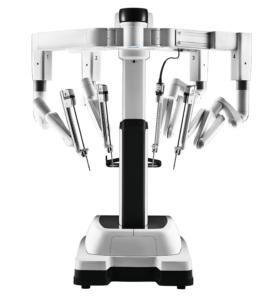 hernia, gallbladder, prostatectomy, nephrectomy and cystectomy surgeries at Self Regional Healthcare.
This system features multiple arms that are capable of performing maneuvers and rotations beyond the natural ability of the human hand, all controlled by the surgeoon sitting just feet away.
This revolutionary device allows physicians to perform surgeries like never before, with magnified 3D images in real-time, and less painful healing for patients.
The da Vinci Xi is versatile and flexible, with setup automation and guidance that promotes OR efficiency. It provides multiquadrant access and is used for a variety of complex procedures.
Click here to read more about the daVinci Xi System® at Self Regional Healthcare.
For over 20 years, daVinci surgical systems have led the way in the operating room, altering the world of minimally invasive surgery forever.
After more than 10 million surgeries, Intuitive has become a leader in surgical robotics, and the field of minimally invasive surgery. And the innovation continues with a new generation of integrated systems and single port capabilities.
Click here to read more about Intuitive Surgical®.
To learn more about daVinci for Urology, call 864-227-6401.
To learn more about daVinci for general surgery, call 864-223-8090.
Dr. Todd Hansen speaks with Self Regional Healthcare President and CEO, Dr. Matt Logan, in our latest installment of the Medically Speaking Podcast.
Click below to hear how Dr. Hansen uses the DaVinci Robotic Surgical System to perform Urological procedures, and the future of hospital robotics.