The Postgraduate Year One Pharmacy Residency (PGY-1) at Self Regional Healthcare will provide residents with experiences to enhance their skills and knowledge of clinical pharmacy services.
The program is designed to provide the resident month long direct patient care rotation experiences in different areas of pharmacy practice, providing the resident with a well-rounded advanced practice experience level upon graduation.
One month of orientation, one month of research, 8 core and two elective rotation options, along with a variety of longitudinal experiences allow Self Regional Healthcare PGY1 residents flexibility in pursuing individual interests in clinical pharmacy practice.
Program Requirements
Program Requirements
Doctor of Pharmacy degree from an Accreditation Council for Pharmacy Education (ACPE) accredited degree program
Licensed or eligible for licensure to practice pharmacy in South Carolina
Participation in the ASHP Residency Matching Program
Pharmacy school transcripts
Three professional references using the Standardized Reference Template in the Pharmacy Online Residency Centralized Application Service (PhORCAS)
Curriculum vitae
Letter of intent describing professional goals and reasons for pursuing post graduate training
Completed application via PhORCAS
Considerations for Selection
Scholastic achievement
Performance in clinical clerkships
Communication skills
Community or public service
Onsite interview
Resident Expectations
Provide pharmaceutical care to patients in different settings
Fulfill all assignments and duties as assigned by the primary preceptor
Learn independently, and accept constructive feedback from mentors
Complete a meaningful research project
Maintain professional ethics
Participate in educational activities for pharmacy, nursing, medical, and other staff as assigned
Provide pharmacy operations staffing coverage as assigned
Application Process
Self Regional Healthcare PGY-1 
Pharmacy
Residency Program began its inaugural class in the summer of 2020, and is seeking ASHP accreditation.  Applications for the 2021/2022 year will be through PhORCAS(
Pharmacy
 Online Residency Centralized Application Service).
Salaries and Benefits
Stipend $45000 annually
Program sponsored accommodations to attend ASHP Midyear meeting and the South Eastern Residency Conference
Paid Time Off – 15 working days per year. To be used for the purposes of vacation and sick leave. 6 Holidays
BLS, ACLS provided.
Initial lab coat provided
Health, Dental & Vision Insurance: as per current SRH benefits.
Life Insurance: free to residents up to the level of base salary; may be increased at minimal cost and purchased for spouse at minimal cost.
Long Term Disability Insurance provided: 40% of salary at no cost. Can purchase additional 20%
403b and 457b retirement plan: Hospital matches up to 3% of Resident's contributions in the 403b plan
Pre-tax HSA and FSA and Pre-tax Dependent Care Spending accounts available.
YMCA and other work out facilities available at reduced rates through payroll deduction
Core Rotations
Family Medicine
Adult Critical Care
Infectious Diseases
Transitions of Care
Pharmacy Administration
Emergency Medicine
Surgical Care
Preceptorship
Family Medicine
Family Medicine is a one month required rotation for pharmacy residents. This rotation provides a foundation in pharmaceutical care to the patients admitted to the hospital under the Family Medicine team. There are two Family Medicine teams, each consisting of first, second, and third year medical residents, along with an attending physician, and a clinical pharmacist. Pharmacy residents will become fully integrated into one of the Family Medicine teams and round on a daily basis focusing on medication management in patients with a variety of disease states. Recommendations for modifications to drug regimens, pharmacokinetic monitoring, drug information requests, resolution of drug problems, and patient counseling will all be required components of the rotation.
Critical Care
Pharmacy residents will provide pharmaceutical care to complex, critically ill adults in the Medical Intensive Care Unit (ICU) and Cardiac Intensive Unit (CICU). The ICU is a 20 bed unit and the Cardiac ICU is a 10 bed unit. If open, the resident will also be responsible for the patients in the CVICU which is the overflow intensive care unit. There will be exposure to a variety of disease states covered via patient experiences, assigned reading material, discussions of disease states and case presentations. Residents will have the opportunity to provide education and drug information to the critical care team including physicians, medical residents, nurses, respiratory therapists, etc. Residents will be expected to monitor and provide evidence based guidance for the treatment of medical and cardiac ICU patients
Transitions of Care
The PGY-1 Transitions of Care rotation at Self Regional Healthcare is a required four-week rotation that introduces residents to the management of patients moving within the healthcare system. This evolving role highlights the pharmacist's impact in improving outcomes, reducing readmissions, and improving patient quality of life. The role of the transitional care pharmacist includes participation in multidisciplinary rounds, bed-side patient rounds, medication reconciliation, comprehensive medication review, medication therapy management, patient education, discharge reconciliation, discharge education and patient medication assistance. During the learning experience, residents will further develop their pharmacotherapeutic and intrapersonal communication skills, broaden their knowledge bases within areas of transitional care, and become more confident practitioners on the multidisciplinary team.
Pharmacy Administration
The PGY1 Pharmacy Administration learning experience at Self Regional Healthcare is a required 1-month rotation that will further the Resident's ability to independently manage the administrative aspects of an acute care inpatient pharmacy department. The pharmacist in this practice setting oversees both clinical and personal considerations of pharmaceutical practice within the department on a daily basis. He or she is responsible for balancing budget goals, personnel decisions, daily operations, formulary decisions, interdisciplinary practice, and regulatory compliance. This experience will allow the resident to continue to develop and refine his or her clinical skills, knowledge base, and communication with various healthcare providers.
Emergency Medicine
The Emergency Medicine rotation is a required four-week acute care clinical rotation for pharmacy residents. The resident will have an opportunity to provide pharmaceutical care to a wide range of patients in Self Regional's Emergency Care Center (ECC) which includes an Urgent Care, Behavior Health Unit, and Emergency Department. Pharmacy residents will be actively involved in all critical care situations, including all medical and trauma resuscitation, by providing assistance with medication selection, preparation, and dosing. In addition, pharmacy residents will serve as a drug information resource for the interdisciplinary healthcare team.
Antimicrobial Stewardship
Antimicrobial stewardship is a one month required learning experience. The resident is responsible for performing daily stewardship activities with a focus on providing optimal antimicrobial therapy for all patient populations. The resident will become familiar with commonly encountered infectious disease states, review major guidelines and participate in the education of the medical and pharmacy staff as appropriate. By the end of the rotation, the pharmacy resident will have the foundational skills necessary to provide antimicrobial therapy recommendations that can be applied to any future practice area.
Surgical Care
The Surgical Care practice experience is a 4 week required rotation at Self Regional Healthcare (SRH), a 420-bed nonprofit, community hospital with 12 operating rooms, 1 cystoscopy suite, two 35-bed ambulatory surgical care units, and a 12-bed PACU. The goals of this rotation are to introduce pharmacy residents to the daily management of various types of surgical patients amid different surgical settings and to allow the resident to become an independent practitioner among multi-disciplinary teams.
Preceptorship
The Preceptorship rotation is a one-month experience that will focus on the development of the resident as a primary preceptor for an APPE pharmacy student. The chosen specialty will be a repeat of a rotation the resident has completed with satisfactory progress, with an emphasis on precepting. The learning experience will concentrate on the development of the resident through the four preceptor roles: instructing, modeling, coaching, and facilitating. Residents will continue to develop clinical skills and be responsible for evaluating evidence-based patient-specific medication plans in addition to their precepting responsibilities.
Elective Opportunities
Hospitalist Service
Cardiac Surgery Intensive Care/ Cardiology
Ambulatory Care Clinic
Repeat of a previous rotation with a different focus
Teaching and Learning Certificate
Cardiac Surgery Intensive Care/Cardiology
This elective experience will provide residents the opportunity to gain experience in managing various cardiovascular disease states and conditions. Experience examples may include providing pharmaceutical care to patients on the telemetry medical floors including management of arrhythmias, heart failure, ischemic cardiac disease, thromboembolic disorders, and other cardiovascular-related issues. Pharmacy residents may also provide pharmaceutical care to patients in the Cardiac Intensive Care Unit including post-surgical management, post-interventional care, and management of acute, critical conditions. The rotation may include one or both of the previous areas mentioned, depending upon the pharmacy resident's area of interest.
Teaching Certificate
This rotation serves to provide a quality teaching and learning experience for post-graduate year one residents that incorporates individualized academic mentorship, in addition to classroom, laboratory, clinical, and preceptor teaching opportunities to equip them with the skills necessary to become effective preceptors or advance to a career in academia.
Longitudinal Experiences
Research projects
Pharmacy Staffing
Medication Use Evaluations
Continuing Education Presentation
Drug Information
Pharmacy Informatics
On-call program for code response
Alumni
This is the first year for the Postgraduate Year One Pharmacy Residency (PGY-1) at Self Regional Healthcare.
About Greenwood
Self Regional Healthcare is well respected in the region and the state as an organization committed to continually advancing care for the communities we serve. The Lakelands region provides ideal living conditions: great climate, affordable cost of living, not to mention close proximity to lakes, big city shopping and entertainment, annual festivals, historic towns and some of the greenest golf courses imaginable.
Nestled within the rolling hills of South Carolina's Upstate region, Greenwood enjoys small town appeal without being small. The revitalized city center provides fine dining, fine arts, cultural and historical experiences, theatre, an Uptown Farmer's Market, library and high fashion shopping all within a two-mile stretch.
Facilities
Self Regional Medical Center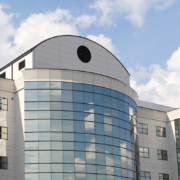 Self Regional Medical Center is a 358-bed not-for-profit community facility designated as a 503(c) organization. A diverse population of 200,000 makes up its referral base across the seven-county area.
The major surgical and medical specialties are well represented, with more than 150 physicians on staff, and many directly involved in resident training.
The hospital features a Level III trauma center in the Emergency Care Center; Intensive and Cardiac Care Units, a family-oriented Birthing Center; Level III Neonatal Intensive Care; a Behavioral Health Unit; and a MUSC-affiliated Cancer Center.
Contact us
Jennifer Elrod, PharmD
Clinical Pharmacy Manager, PGY1 Residency Program Director
Self Regional Healthcare 1325 Spring Street Greenwood, SC 29646
Email: jelrod@selfregional.org
Office Phone: 864-725-5774
Fax: 864-725-4102