Self Regional's Heart and Vascular Center Awards 10 Community Organizations With Life-Saving Devices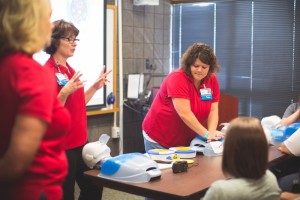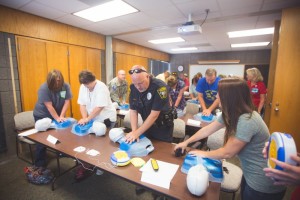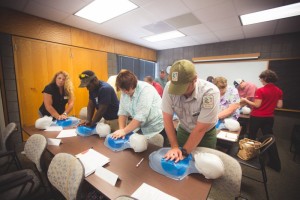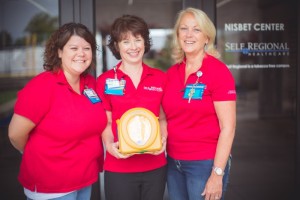 (Greenwood, S.C., July 2, 2015) – The list of 2015 AED grant recipients is filled with incredible organizations that serve the Lakelands community.
Schools, churches, community centers–even a fire department and state guard outpost–are among the groups that have been chosen to receive an automatic external defibrillator (AED) from the Self Regional Healthcare Heart and Vascular Center's grant program. The program is awarding 10 AEDs, valued at a total of $25,000 or $2,500 each.
"AEDs are a proven life-saver during sudden cardiac emergencies, and we want to make sure our community is equipped and trained to respond," said Kendra Kenney, Administrative Director of the Heart and Vascular Center. "The grant program is our effort to partner with our community and try to fill in some of the geographic gaps with these powerful devices."
Representatives from the 10 organizations chosen to receive an AED were trained on how to use the device in an emergency and how to maintain the equipment during mid-June at Self Regional. Self Regional is the region's only Accredited Chest Pain Facility, and is committed to offering health screening, education and other outreach for the community.
Here are the organizations that received an AED from Self Regional:
South Carolina State Parks—Lake Greenwood (Greenwood County)
Promise Land Fire Department (Greenwood County)
Cambridge Academy (Greenwood County)
Strom Thurmond High School (Edgefield County)
John de la Howe School (McCormick County)
Trinity United Methodist Church (Newberry County)
Titan Farms (Saluda County)
South Carolina State Guard (Greenwood County)
Family YMCA of Greater Laurens (Laurens County)
Laurens Police Department (Laurens County)
Grant recipients submitted an application that outlined their need for the device, including the amount of individuals who visit the facility. A committee consisting of physicians, clinicians and community representatives were responsible for selecting the grant recipients.
More than 45 applications were received for the 10 AEDs.
"The response to this program exceeded our expectations," said Sheryl Burgess, Heart and Vascular Center's AED Grant Coordinator. "We plan to work with our new partner organizations to ensure they are prepared to use their AED in an emergency. Our goal is to continue this program in 2016 and continue preparing our community for a cardiac emergency."
Organizations that were not selected for a grant this year were given the opportunity to purchase an AED at a significantly reduced price ($1,500 for a unit instead of about $2,500).
###
About Self Regional Healthcare:
Self Regional Healthcare is a not-for-profit, regional referral hospital that provides care to residents of Greenwood, Abbeville, Laurens, Saluda, McCormick, Edgefield and Newberry counties. Services include prevention and wellness, acute care and tertiary care services including cancer care, neurosurgery, heart and vascular surgery, NICU and orthopedics. Self Medical Group is its employed physician affiliate network of 20 practices and more than 60 physicians.