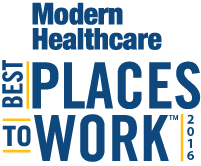 Modern Healthcare, the industry's leading source of healthcare business and policy news, research and information, has named Self Regional Healthcare as one of the Best Places to Work in Healthcare for the fourth time. Self Regional is one of only two healthcare providers in South Carolina to make the 2016 list.
"We are proud to be recognized again by Modern Healthcare for our organization," said Mike Dixon, Self Regional Healthcare Vice President of Human Resources. "I'm so pleased that the work environment provided at Self Regional has resulted in happy team members and ultimately, exceptional patient care. Their candid feedback and dedication is the source of this wonderful recognition."
Self Regional, a nine-time Gallup Great Workplace Award recipient (2008-2016), employs more than 2,400 team members in the Lakelands region of South Carolina.
Modern Healthcare revealed the ranked order of the 100 Best Places to Work in Healthcare for 2016 at an awards dinner on Oct. 6, 2015 in New Orleans during Modern Healthcare's annual "Workplace of the Future" conference.
An alphabetical listing of winners is available at http://www.modernhealthcare.com/article/20160711/INFO/160709933
###
About Self Regional Healthcare: Self Regional Healthcare is a not-for-profit, regional referral hospital that provides care to residents of Greenwood, Abbeville, Laurens, Saluda, McCormick, Edgefield and Newberry counties. Services include prevention and wellness, acute care and tertiary care services including cancer care, neurosurgery, heart and vascular surgery, NICU, orthopedics and genetics. Self Medical Group is its employed physician affiliate network of 32 practices and more than 113 physicians.
About the Award Program: Modern Healthcare partnered with Best Companies Group, a PA-based firm that administers "best places to work" programs nationwide. The program collected information from both the employers and employees and was open to all healthcare companies in the United States with at least 25 employees.