(Greenwood, S.C., September 30, 2021) Self Regional Healthcare Imaging Center has been designated a Breast Imaging Center of Excellence by the American College of Radiology (ACR).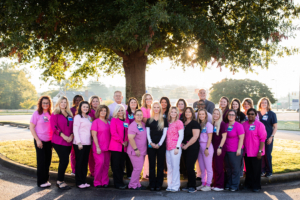 By awarding facilities the status of a Breast Imaging Center of Excellence, the ACR recognizes breast imaging centers that have earned accreditation in mammography, stereotactic breast biopsy, breast MRI (including MRI-guided breast biopsy), and breast ultrasound (including ultrasound-guided breast biopsy).
Peer-review evaluations, conducted in each breast imaging modality by board-certified physicians and medical physicists who are experts in the field, have determined that this facility has achieved high practice standards in image quality, personnel qualifications, facility equipment, quality control procedures and quality assurance programs.
"We are honored to have received this accreditation, as the entire team here at Self Regional's Imaging Center and Breast Center have worked diligently to become a Center of Excellence. We take great pride in having the American College of Radiology recognize our work being done here in Greenwood, S.C., allowing our center to be more visible throughout the country," says Dr. Catherine Kasper, Self Regional Healthcare's Breast Imaging Radiologist.
The ACR is a national professional organization serving more than 36,000 diagnostic/interventional radiologists, radiation oncologists, nuclear medicine physicians, and medical physicists with programs focusing on the practice of medical imaging and radiation oncology and the delivery of comprehensive health care services.
###
About Self Regional Healthcare:
Self Regional Healthcare is a not-for-profit, regional referral hospital that provides care to residents of Greenwood, Abbeville, Laurens, Saluda, McCormick, Edgefield and Newberry counties. Services include prevention and wellness, acute care and tertiary care services including cancer care, neurosurgery, heart and vascular surgery, NICU, orthopedics and genetics. Self Medical Group is its employed physician affiliate network.