(Greenwood, S.C., March 24, 2022) – Self Regional Healthcare is the first hospital in Lakelands region to offer Mako SmartRobotics™. This advancement in joint replacement surgery transforms the way total knee, partial knee and total hip replacements are performed, by helping surgeons know more and cut less.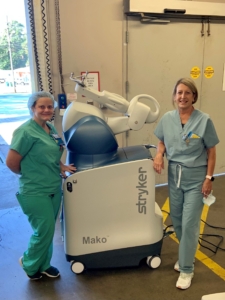 Mako SmartRobotics™ combines three key components, 3D CT-based planning, AccuStop™ haptic technology and insightful data analytics, into one platform that has shown better outcomes for total knee, total hip and partial knee patients.  
"With Mako SmartRobotics™, we know more about our patients than ever before, and are able to cut less. For some patients, this can mean less soft tissue damage; for others, greater bone preservation," said Dr. John Cathcart of Self Regional Healthcare. "Mako's 3D CT allows our surgeons to create a personalized plan based on each patient's unique anatomy before entering the operating room. During surgery, we can validate that plan and make any necessary adjustments while guiding the robotic arm to execute that plan. It's exciting to be able to offer this transformative technology across the joint replacement service line to perform total knee and total hip replacements."  
Total knee replacements in the United States are expected to increase 189% by 2030, yet studies have shown that approximately 20% of patients are dissatisfied after conventional surgery. Mako Total Knee combines Stryker's advanced robotic technology with its clinically successful Triathlon Total Knee System, which enables surgeons to have a more predictable surgical experience with increased precision and accuracy. In clinical studies, Mako Total Knee demonstrated the potential for patients to experience less pain, less need for opiate analgesics, less need for inpatient physical therapy, reduction in length of hospital stay, improved knee flexion and greater soft tissue protection in comparison to manual techniques.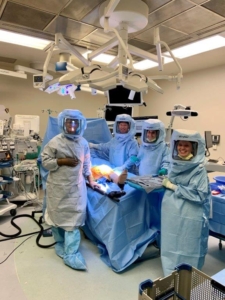 By 2030, total hip replacements in the United States are projected to grow 171%. Mako SmartRobotics™ for Total Hip is a treatment option for adults who suffer from degenerative joint disease of the hip. During surgery, the surgeon guides the robotic arm during bone preparation to prepare the hip socket and position the implant according to the predetermined surgical plan. In a controlled matched-paired study to measure acetabular bone resection, results suggested greater bone preservation for Mako Total Hip compared to manual surgery.
"We are proud to be the first hospital to offer this highly advanced SmartRobotics™ technology in our area," said Dr. Matthew Logan, President & CEO of Self Regional Healthcare. "This addition to our orthopedic service line further demonstrates our commitment to provide the community with outstanding healthcare." 
### 
About Self Regional Healthcare:
Self Regional Healthcare is a not-for-profit, regional referral hospital that provides care to residents of Greenwood, Abbeville, Laurens, Saluda, McCormick, Edgefield and Newberry counties. Services include prevention and wellness, acute care and tertiary care services including cancer care, neurosurgery, heart and vascular surgery, NICU, orthopedics and genetics. Self Medical Group is its employed physician affiliate network of 44 practices and more than 200 physicians.