(Grapevine, TX, May 13, 2022)– During the 2022 ACMA National Conference on May 3, the American Case Management Association announced Monica "Tisha" Ouzts, team member at Self Regional Healthcare, the posthumous recipient of the 2022 Case Management Hero Award. As part of the award, ACMA, along with support from XSOLIS, will provide assistance to her surviving family members by paying their home mortgage for one year and creating an education fund for her two daughters.
"Nurses and case managers go into the business to serve others, and the passion with which they serve their patients and their communities is humbling and should be recognized – celebrated and lifted by us, especially when they couldn't do it for themselves," said L. Greg Cunningham, ACMA CEO and founder. "Monica's commitment to her patients resulted in the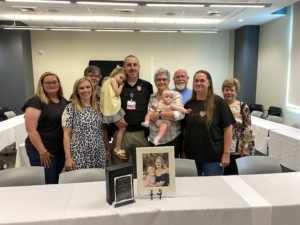 ultimate sacrifice, and we hope this award will make a difference in honoring her legacy while providing some comfort for her family in the days ahead."
Established in 2021, the ACMA Case Management Hero Award recognizes an outstanding professional who has faced a life challenge yet continues to deliver exemplary service for their patients and families.
Ouzts was a case manager who volunteered to work inside the hospital at the onset of the COVID-19 pandemic to allow her coworkers to continue to work remotely. Described as having a "deep desire to walk alongside patients and families during a medical need," she was known for working into the evening while reiterating that her patients' needs always came first.
While pregnant with her second child, Ouzts contracted COVID-19. She passed away in November 2021, after delivering her second child via an emergency cesarean section. Ouzts left behind her husband, a Self Regional Healthcare security officer, and their two daughters.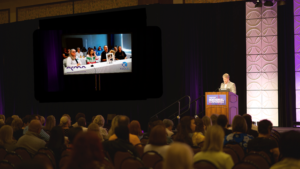 "Tisha was a hero both professionally and personally," said Jessica Moore, LMSW, ACM-SW, transitional care manager at Self Regional Healthcare, who nominated Tisha. "She was the kind of case manager who left nothing unturned. As a manager, knowing Tisha was assigned to a patient gave me assurance that the patient and family would have every need met, no matter the cost. She was never afraid to go where she was needed and willingly said yes to anything asked of her. Tisha's fierce compassion and empathetic heart burned bright, and it's a light we will never be able to replace."
To learn more about the ACMA Case Management Hero Award, please visit: https://www.acmaweb.org/heroaward
###
About ACMA
Founded in 1999, the American Case Management Association (ACMA) is the largest national, non-profit, professional membership association, which strives to provide resources, solutions and support for Case Management and Transitions of Care professionals. ACMA is comprised of more than 8,000 members nationwide, including nurses, social workers, physicians and other professionals affiliated with case management and over 48,000 educational subscribers. Through a variety of educational conferences and networking events at both the state and national level, ACMA provides its members with numerous opportunities to develop their skills, grow in their profession and learn from the experiences and practices of fellow members. For more information, visit http://www.acmaweb.org.
About XSOLIS
XSOLIS is a healthcare technology company headquartered in Nashville, Tennessee, serving health plans, hospitals and payer organizations nationwide with its utilization review technology, denials management consulting, and physician advisor services. CORTEX®, its AI-driven technology platform, is the first and only solution to use real-time predictive analytics to continuously assign an objective medical necessity score and assess the anticipated level of care for every patient. CORTEX makes review automation possible and creates a clinical source of truth, enabling more efficiency and collaboration for payers and providers to break down silos and build partnerships across the healthcare ecosystem. Learn more about XSOLIS' utilization management technology, denials management consulting and physician advisor services at https://www.xsolis.com.