(Greenwood, SC, July 15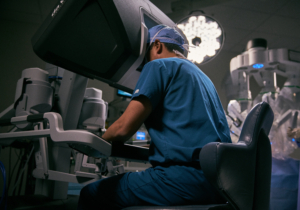 , 2022) – Self Regional Healthcare has taken another step into the future of healthcare with the implementation of the da Vinci Xi Robotic Surgical System.
The revolutionary system allows physicians to see magnified 3D images of the surgical site in real-time throughout the procedure, while the robotic arms become an extension of the surgeon's hands, allowing more precision and less pain for the patient during recovery.
"The da Vinci has changed the game when it comes to performing surgery," said Dr. Jeff Thomas of Self Regional's Advanced Surgical Associates. "This tool allows us to see things we aren't capable of seeing with the human eye and gives the surgeons even better range of motion with our hands and wrists while performing procedures. We're thrilled to be able to offer this to patients."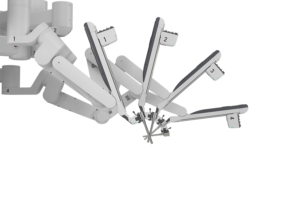 The da Vinci was purchased using funds raised by the Self Regional Healthcare Foundation and is currently being used to perform gallbladder and hernia procedures.
Ken Coffey, Executive Director of the SRH Foundation said, "The foundation is so excited to be able to help contribute this amazing and much needed technology to Self Regional. We are eager to see the amazing results this will bring to our community."
###
About Self Regional Healthcare
Self Regional Healthcare is a not-for-profit, regional referral hospital that provides care to residents of Greenwood, Abbeville, Laurens, Saluda, McCormick, Edgefield and Newberry counties. Services include prevention and wellness, acute care and tertiary care services including cancer care, neurosurgery, heart
and vascular surgery, NICU, orthopedics and genetics. Self Medical Group is its employed physician affiliate network of 44 practices and more than 200 physicians.
About Intuitive Surgical, Inc.
Intuitive (Nasdaq: ISRG), headquartered in Sunnyvale, Calif., is a global technology leader in minimally invasive care and a pioneer of robotic-assisted surgery. At Intuitive, our mission statement is we believe that minimally invasive care is life-enhancing care. Through ingenuity and intelligent technology, we expand the potential of physicians to heal without constraints. Intuitive brings more than two decades of leadership in robotic-assisted surgical technology and solutions to its offerings, and develops, manufactures and markets the da Vinci surgical system and the Ion endoluminal system.
About the da Vinci surgical system
There are several models of the da Vinci surgical system. The da Vinci surgical systems are designed to help surgeons perform minimally invasive surgery. Da Vinci systems offer surgeons high-definition 3D vision, a magnified view, and robotic and computer assistance. They use specialized instrumentation, including a miniaturized surgical camera and wristed instruments (i.e., scissors, scalpels and forceps) that are designed to help with precise dissection and reconstruction deep inside the body.