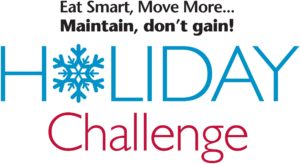 The Maintain, Don't Gain Employee Holiday Challenge 2018 Starts November 12
Available to all Team Members, this program does not focus on trying to lose weight. Instead, this FREE seven-week challenge provides you with tips, tricks, and ideas to help maintain your weight throughout the holiday season.
Participate and Win Prizes
There are 3 ways to win prizes every week for 7 weeks. Each week you will log your weight, attend a lunch and learn (or watch the recorded webinar), and participate in a Weekly Challenge. For every item you complete, you receive entry into a prize raffle.
Weekly Challenges
There are 7 different challenges for you to complete during the Holiday Challenge,
Participating in the Challenges is voluntary. Each challenge is designed to focus on a different element of Healthy Living, with a prize raffle for everyone who successfully completes the challenge.
Week 1 Nov 12-18: CARDIO/WALK 15 minutes per day
Week 2 Nov 19-25: FRUITS/VEGGIES 5 servings a day
Week 3 Nov 26-Dec 2: CARDIO/WALK increase to 20 minutes per day
Week 4 Dec 3-9: HYDRATION Drink at least 64oz of water each day
Week 5 Dec 10-16: NO ADDED SUGAR
Week 6 Dec 17-23: SLEEP CHALLENGE Average 7 hours per night
Week 7 Dec 24-30: CARDIO/WALK 30 minutes goal= 150 minutes per week
Be sure to check out the Self Cares menu items in the cafeteria. Healthier food items are marked with the Self Cares Chef logo. And remember, put money on your badge and swipe to pay for your meal and receive %10 discount.
Don't have time to cook dinner when you get home? Stop by the cafeteria before you go home and to pick up a Self Cares Entrée to go. A perfect healthy meal solution that saves you time.
What if I have other questions?
The Maintain, Don't Gain Holiday challenge is provided by Eat Smart, Move More, Weigh Less, a 15-week online weight management program delivered by a live Registered Dietitian, and Eat Smart, Move More, Prevent Diabetes, a 12-month online diabetes prevention program recognized by the CDC.
 –
This program is delivered to Self Regional Healthcare and Self Medical Group team members through the combined efforts of Diabetic Education, Employee Health, Prevention and Wellness Services, and Wellness Works.