This article was included in the "Your Community, Your Self" Community Benefits Report for Spring 2012. View the complete index of articles and content, or download the full PDF (four pages).
Unpaid cost of patient care totals $16,011,633 at Self Regional in 2011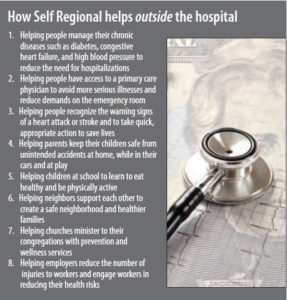 As a not-for-profit hospital, Self Regional must serve all those who seek necessary emergency medical
care regardless of their ability to pay. In 2011 the total unpaid cost of patient care at Self Regional was over $16 million.
Like all community hospitals, Self Regional's financial strength is critical to our ability to meet our mission of serving all patients who need medical care. Government insurance programs, Medicare and Medicaid, provide more than half of our hospital's patient revenue, with the remainder coming mostly from commercial insurance companies.
These government programs have implemented reductions in their payments over the years and plan to reduce governmental deficits with additional reductions. These reductions will significantly increase the risk of closure for hospitals that do not have the financial strength, management leadership and a community reputation for high quality and safe care.
Because of this charitable nature of our business, Self Regional Healthcare is a tax-exempt, not- for-profit organization. Self Regional Healthcare, like all other not-for-profit hospitals, must depend on payments from commercially insured to offset the losses from those patients unable to pay. Not having to pay local, state or federal government taxes allows this shifting of costs to be less than it otherwise would be.
Self Regional Healthcare receives no reimbursement for the financial support described in this community benefit report paid to the various organizations that help to serve the healthcare needs of our communities. This funding from Self Regional and the work of these organizations are helping improve the quality of life across the Lakelands.
Self Regional is working hard to slow the increasing cost of healthcare to businesses and individuals hile continuing to provide high quality and safe care. Any form of taxation on Self Regional Healthcare would reduce the funds available for the care of those with no means to pay and reduce the prevention and wellness activities Self Regional provides in the community.