(Greenwood, S.C., April 25, 2018) – Personalized Blood Flow Restriction (PBFR) is a revolutionary new treatment changing the world of physical therapy, and it's available here in the Lakelands.
Johnny C. Owens, former Chief of Human Performance for the San Antonio Military Medical Center, originally developed PBFR for injured veterans to gain muscle mass post-injury. He discovered that vascular occlusion (blood flow restriction) during low-resistance exercises recreates what happens during heavy weight lifting, making it possible for injured and elderly patients to obtain strength safely, without exerting a large amount of force or bearing a heavy weight load.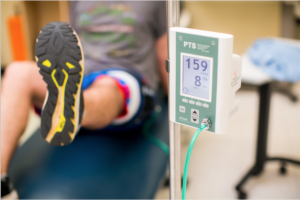 Certified Physical Therapists at the Optimum Life Center, Sloan Calvert and John Kinard witness the success of the treatment on a daily basis.
Calvert said, "By applying an FDA approved tourniquet while exercising the limb, we can trigger the pathways that contribute to muscle strength and size improvements while only lifting light weights."
Typically, one sees the same physical results from Personalized Blood Flow Restriction in two or three weeks, that one might see in six to eight weeks with regular strenuous weight training.
"Most professional and college football teams are now using this cutting-edge therapy for athletes because it truly works," said Kinard. "Players are able to recover in a quicker time frame from sprains, strains, and post- surgical, and we see those same results with our patients as well. It's very impressive."
Personalized Blood Flow Restriction is currently only offered in the Lakelands at the Self Regional Healthcare Optimum Life Center, 115 Academy Avenue in Greenwood, SC. If you have any questions about PBFR therapy or want to learn more, please call (864) 725-7088.
###
About Self Regional Healthcare:
Self Regional Healthcare is a not-for-profit, regional referral hospital that provides care to residents of Greenwood, Abbeville, Laurens, Saluda, McCormick, Edgefield and Newberry counties. Services include prevention and wellness, acute care and tertiary care services including cancer care, neurosurgery, heart and vascular surgery, NICU, orthopedics and genetics. Self Medical Group is its employed physician affiliate network.