(Greenwood, S.C., July 17, 2019) On June 13, 2019, the staff and physicians of the Self Regional Healthcare Cancer Center hosted Ladies Night Out, an event to discuss breast health, various preventative measures and the importance of early detection.
Before the program began, on-site mammograms were offered to all in attendance through the Self Regional Mobile Mammography Unit. 2D and 3D mammography images were displayed side-by-side and detailed to attendees. Self Regional providers were also in attendance to talk about their roles in women's health in the Lakelands community.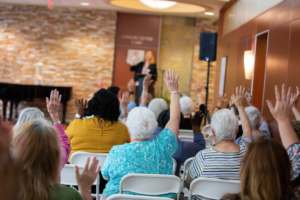 As breast cancer is a worrisome diagnosis for many, one in every eight women will be diagnosed with breast cancer in their lifetime. The event featured several presentations covering key topics regarding breast cancer and breast health.
Hannah Moore, Genetic Counselor from Greenwood Genetic Center, offered informative insight to the role of genetics in women's health, while Dr. Kathleen Jeffery, Medical Director of Breast Services, did a live, hands-on demonstration of self breast exams.
Dr. Paige Huber, Radiologist-Dedicated Breast Imager, stressed the importance of yearly mammograms and the benefits of 2D versus 3D imaging. Dr. Joanna Sadurski, Medical Director of Oncology Services, shared advancements in Medical Oncology treatments as well as the benefits of early detection.
The evening included impressive displays of hors d'oeuvres, door prizes and gifts to serve as a reminder to be proactive in self breast exams and yearly screenings. Attendees also participated in a question & answer discussion with each provider after their presentations were completed.
To learn more about the Self Regional Healthcare Mobile Mammography Unit, please call 864-725-5000.
###
About Self Regional Healthcare:
Self Regional Healthcare is a not-for-profit, regional referral hospital that provides care to residents of Greenwood, Abbeville, Laurens, Saluda, McCormick, Edgefield and Newberry counties. Services include prevention and wellness, acute care and tertiary care services including cancer care, neurosurgery, heart and vascular surgery, NICU, orthopedics and genetics. Self Medical Group is its employed physician affiliate network.