(Greenwood, S.C., July 17, 2019) Self Regional Healthcare Cancer Center hosted its annual Cancer Survivor's Day on June 1, 2019, joining the worldwide celebration that occurs every year. The event was held at Sweet Tea Ranch in Greenwood, SC, with Medical Oncologists, Dr. Joanna Sadurski and Dr. Ruiling Yuan and Cancer Center support staff welcoming over 100 guests into a Survivor's Day carnival.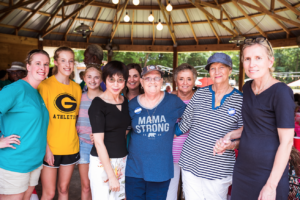 A cancer survivor is defined as anyone living with a history of cancer from the moment of diagnosis through the remainder of life. Battles fought and won, and treatments completed start the celebration of cherished life after diagnosis.
Boiled peanuts and a popcorn bar were two of the many provisions enjoyed by attendees, as well as carnival games between survivors and their supporters.
Dr. Sadurski addressed the crowd with a heartwarming recognition of the battles survivors and caregivers overcome.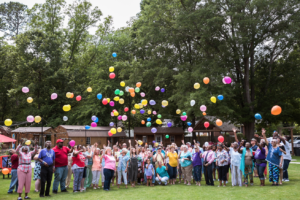 Survivors were connected through shared inspiration, highlighting the day's purpose of celebration. A cloud of balloons were released, signifying each individual's cancer journey, and honoring their presence.
If you have questions about the Self Regional Healthcare Cancer Center's programs or want to know more, please call 864-725-7353.
###
About Self Regional Healthcare:
Self Regional Healthcare is a not-for-profit, regional referral hospital that provides care to residents of Greenwood, Abbeville, Laurens, Saluda, McCormick, Edgefield and Newberry counties. Services include prevention and wellness, acute care and tertiary care services including cancer care, neurosurgery, heart and vascular surgery, NICU, orthopedics and genetics. Self Medical Group is its employed physician affiliate network.