(Greenwood, SC, December 20, 2022)- The South Carolina Hospital Association (SCHA)
has presented Self Regional with the Zero Harm Award, a distinction given
to hospitals who are at the forefront of preventing medical errors.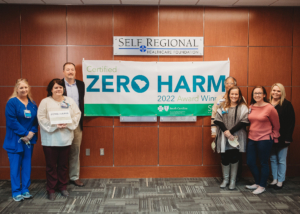 The award began as an idea between the SCHA and SC DHEC for hospitals in the state to achieve "zero harm," or, going long periods of time without hospital-acquired infections in common areas, which some estimate is the third leading cause of death in the US. Through the successes of the award, countless patient's lives have been saved.
Jennifer Clary, SRH Director of Quality Improvement & Patient Safety said, "We are focused and committed to the safety of our patients at Self Regional and we're so happy and honored to get this award that shows our community that."
To learn more about the Zero Harm Award, or read a full list of award recipients, click here.
###
About Self Regional Healthcare
Self Regional Healthcare is a not-for-profit, regional referral hospital that provides care to residents of Greenwood, Abbeville, Laurens, Saluda, McCormick, Edgefield and Newberry counties. Services include prevention and wellness, acute care and tertiary care services including cancer care, neurosurgery, heart and vascular surgery, NICU, orthopedics and genetics. Self Medical Group is its employed physician affiliate network of 44 practices and more than 200 physicians.