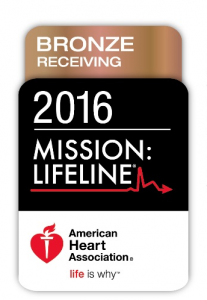 Self Regional Healthcare is committed to fighting heart disease. Our advanced technologies and state-of-the art equipment provide the Lakelands region comprehensive care from diagnosis to intervention and rehabilitation.
Quality care is achieved through a multidisciplinary team of professionals including board-certified cardiologists, board-certified cardiothoracic surgeons, anesthesiologists credentialed to provide heart surgery, certified operating room RNs, critical care RNs, specialized technologists in invasive and noninvasive care, physician assistants, perfusionists, respiratory therapists and exercise physiologists.
Diagnostics
We've streamlined the diagnostic process. Employing the latest technology, our cardiologists have the ability to rapidly acquire and interpret the results of an echocardiogram or cardiac catheterization. Diagnostic tools include electrocardiography, stress testing, tilt table testing, echocardiography, holter monitoring, electrophysiologic testing and cardiac catheterization.
Diagnostic services:

Cardiac catheterization and angiography
Exercise treadmill stress testing with nuclear imaging
Holter monitoring
Event recording
Ambulatory blood pressure monitoring
Echocardiography
Magnetic Resonance Imaging (MRI)
Transesophageal Echocardiolography (TEE)
Interventional Cardiology
Self uses the latest technology and equipment to provide interventional care. Balloon angioplasty, with or without stent implantation, can be used to restore blood flow to the heart muscle with excellent results. When a cardiac emergency occurs, timing is critical, which is why our cath lab staff is on call 24 hours a day.
Interventional cardiology includes:
Coronary angiography
Percutaneous Transluminal Coronary Angioplasty (PTCA)
Coronary stenting
Drug-eluting stents
Cutting-edge balloon technology
Intracoronary ultrasound imaging
Rotational atherectomy/Rotablator™
Rheolytic Thrombectomy/Angioj™
Cardiac Electrophysiology (EP) Services
We offer the full breadth of the most advanced, leading-edge protocols for the diagnosis and treatment of cardiac rhythm abnormalities, also known as arrhythmias. These include device therapies, invasive EP studies and interventional electrophysiology.
Device-based treatments include pacemakers for slow rhythms, implantable cardiac defibrillators (ICDs) for abnormally fast rhythms that can result in sudden death, and cardiac resynchronization therapy (biventricular devices) for advanced heart failure.
Interventional electrophysiology utilizes radiofrequency energy (heat) or cryotherapy (cold) to selectively ablate or eliminate the source or the structures critical for an arrhythmia to perpetuate. The target for ablation can be pinpointed with an invasive EP study, where electrode catheters are strategically placed in the heart, permitting precise mapping of an arrhythmia.
Interventional cardiology includes:
Pacemakers
Defibrillators
Biventricular pacemakers
Biventricular defibrillators
Invasive EP studies
Catheter ablation of:

Supraventricular tachycardia
Atrial tachycardia
Atrial flutter
Atrial fibrillation
AV node
Ventricular tachycardia
Surgery
For some patients with heart disease, cardiac surgery remains the best option. Our surgeons are skilled, compassionate, and experienced in all areas of heart surgery including:
Surgical services include:
Coronary artery revascularization
Valve repair and replacement
Atrial fibrillation surgery
Aorta and great vessels surgery
Rehabilitation
Self Regional Healthcare's nationally certified cardiopulmonary rehab program supports heart patients and those who are at potential risk. This program is led by a multidisciplinary team that provides individualized care to include education, supervised exercise sessions and nutritional counseling. A physician referral is required.
Please search our physician directory by clicking here or call (864) 725-6058 for the name of a physician in your area.