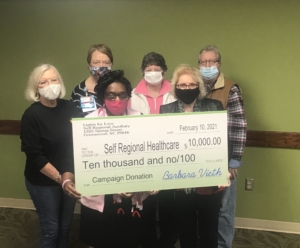 (Greenwood, S.C., February 15, 2021) The Lights for Love campaign, which began in 1979, has become a holiday tradition, and one of the larger fund-raising activities of the Self Regional Healthcare Auxiliary.
In the 40 years since its start, Lights for Love has sponsored many projects for the different departments at Self Regional Healthcare. For as little as $5 dollars, individuals may honor or remember someone with a Light for Love on the Self Regional Healthcare Christmas Tree. Names of those being honored or remembered are placed on Lights for Love Scrolls located in the hospital atrium and an acknowledgement card is sent with the name of the person indicated.
By giving to the Self Regional Healthcare Auxiliary's Lights of Love program, individuals can offer a meaningful expression of sympathy, love and respect, while supporting the patients and their families.
Donations from the 2020 Lights for Love campaign will be used this year to support three special areas of our hospital: The Cancer Center Angels & Hearts Program for patients completing either chemotherapy or radiation treatments; The Silver Spoons Program for every new-born child at Self Regional Healthcare and the purchase of recreational supplies for our Behavioral Health Unit. All of these areas respectively represent achievement, celebration and hope.
For more information about the Lights for Love annual campaign, please contact Volunteer Services of Self Regional Healthcare at (864) 725-4165.
About Self Regional Healthcare:
Self Regional Healthcare is a not-for-profit, regional referral hospital that provides care to residents of Greenwood, Abbeville, Laurens, Saluda, McCormick, Edgefield and Newberry counties. Services include prevention and wellness, acute care and tertiary care services including cancer care, neurosurgery, heart and vascular surgery, NICU, orthopedics and genetics. Self Medical Group is its employed physician affiliate network.